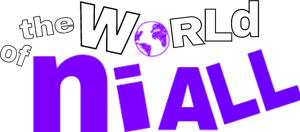 "
The World of Niall
" is a comedy sitcom originated by Miss Artistas Perfectos that premieres in March 31, 2016. It stars
Peyton Meyer
as the titular character,
Niall Munroe
. The show follow the life of Niall, a twelve-year-old is released from overprotective parents to know the world. The series was created by Nestor Castillo.
The series follows the life of Niall Munroe (Peyton Meyer), a boy that overprotective parents, has never left the house and do not know the world. Josh (Bradley Steven Perry), Niall's best friend, urges him to take risks and teaches in New York City. By Niall knows stumbling Sonny (Rowan Blanchard), the love interest at first sight and new friend of Niall.
The show's working title was The World of Tyler, but was changed for unknown reasons.[1]
The production for the series started September 26, 2014.[2]
The theme song is Dove Cameron's On Top of The World.
It possible that this will be the second M.A.P. serie to have four seasons.
In interviews, was announced that Kendall: Love To A Guy's Austin North will star an upcoming serie, and the role will name Tyler, previous Niall's name.
June 2, 2015 was confirmed that Jennifer Lopez and William Levy will play the roles from Zoey and Cory, confirming the complete main cast from the serie.
September 4, was confirmed that will be premiered 2016.[3]
Is the first M.A.P. serie to center into a Latino family (Perrie and Ariana's Maslow family don't count because they are confirmed American family).
It's the first M.A.P. show to got a trailer.
This show was first premiered in English and not in international Spanish, like every M.A.P. production.
References
Edit